Nature's Own Superfood
Freshwater King Salmon offers the perfect response to those who find salmon traditionally oily. Yet its subtlety still delivers a perfect balance between Omega-3 and Omega-6 fatty acids. Salmon is 20% protein and contains vitamins A, D, E, a range of B vitamins, zinc, iron, copper, manganese, calcium phosphorus, potassium, antioxidants, sodium and selenium, all essential minerals for healthy living.
Salmon is also lower in calories than beef, chicken and many other fish types. Health professionals recommend salmon for multiple reasons. It helps boost immune systems, is an excellent antioxidant and can assist in reducing blood pressure and the risk of heart disease. The big story of course is Omega-3, known to promote cognitive skills while also helping to reduce the risk of cancer. Nature's own superfood.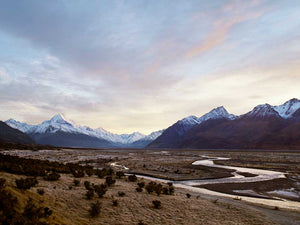 Remote Alpine Environment
In the remote alpine environment of New Zealand's Southern Alps is a network of waterways connecting Lakes Tekapo, Pukaki and Benmore. These lakes support New Zealand's largest renewable hydro scheme, harnessing millions of gallons of free flowing, pure glacial water, rich in minerals and is the home to our King Salmon.
Every minute more than 2 million gallons of fresh glacial water pass through the Mt Cook Alpine Salmon (MCAS) farms creating an ever changing, thriving environment for the salmon. Born to swim, they cover the equivalent of a half marathon every day in the swift flowing currents where they grow and thrive.
These fast flows, highly oxygenated water and the distinctive touch of the seasons are all key ingredients in creating nature's finest tasting salmon.
Reviews & Kind Words
At Venus Spirits Kitchen we only source the best ingredients and Santa Cruz Fish Co. is at the top of the list. We use their smoked salmon and salmon filets – I'm always very happy with the product we receive – always fresh and delicious.

Our smoked salmon dish includes: Santa Cruz Fish Co. smoked salmon, black mustard seeds, purple radish, meyer lemons, English cucumber, pickled ginger, wasabi cream and everything seeds.

Chef James, Venus Spritis