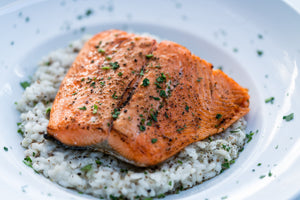 Seared Salmon with Porcini Risotto by Enoteca La Storia in Los Gatos

Special Menu for Wine Club Dinner
People who have a deep respect for food and wine often understand that allowing the best quality ingredients to shine is a simple and powerful approach. The culinary minds at Enoteca La Storia have done a brilliant job of showcasing the clean, rich flavor of our King Salmon in an entree they have prepared for their next wine pairing dinner they have named "A MATCH MADE IN HEAVEN: Salmon (Sustainable), Porcini and Pinot – Ooh, Mommy that's Umami!" The creamy Porcini Risotto is the perfect canvas to carry the seared filet, and the magic that happens when you add a sip of Pinot is better left to Joe Cannistraci to explain.
He writes: "it is this luscious texture and earthy flavor that makes salmon such a perfect partner for Pinot. Pinot's flavors echo and enhance the earthy, savory notes of salmon, while it's medium-body, high acidity and moderate tannins provide the perfect balance to cut through the fattiness of the fish without overpowering its subtle flavors. Add in some creamy porcini risotto and a side Caesar – and you've got the perfect Umami Bomb!"
A Passion for Wine, Food, and Family
The owners of Enoteca La Storia are deeply rooted in family and culinary traditions and these values emanate from the restaurant's design. Food and fun keep families connected and this sense of community is alive and well at the Los Gatos restaurant. The way this fish is raised at Mt. Cook in New Zealand, swimming against millions of gallons of fresh glacial water, it is the most delicious and nutrient rich salmon we have ever seen, and it only makes sense to share the best food with those you love. 
Delicious Fish, Happy People
The best thing about seeing our fish served in restaurants around California is the gratification of seeing the smiles on faces as people enjoy the salmon. If you are interested in adding our King Salmon to your menu, you will have the double benefit of providing your customers with a reliable source of the highest quality King Salmon and can share with them that it is sustainably sourced and has been rated as Best Choice by Fishwise. You can also order our Salmon for your family directly and prepare it in your own way for them at home. Here is the link to our online store: SHOP ONLINE
---