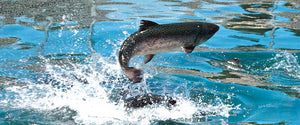 The Top Five Questions You Should Ask Yourself Before Buying Any Salmon
1. Can I actually feel confident serving this salmon?
Yes. Purchasing fresh salmon can be a challenging venture. Is it fresh? How was it stored? How many times has it been thawed and refrozen? Does it contain toxins?
Our happy, healthy king salmon live and thrive in the purest water on the planet, fresh ice-cold water flowing from the glaciers of the Southern Alps on the South Island of New Zealand. Arguably, this gives you access to the world's top source of fresh salmon. To preserve its superior taste, texture and freshness, the salmon is blast frozen immediately after harvest and stored at sub zero temperatures until it is shipped to your door.
2. Is there any research or expert advice supporting this choice?
Yes, there is. Santa Cruz Fish Co. king salmon, imported from New Zealand, is the only salmon awarded a rating of Green, "Best Choice in Sustainability", by Monterey Bay Aquarium's Seafood Watch. No other salmon, wild or farmed, has received or earned the Green rating.  
The Monterey Bay Aquarium's Seafood Watch is one of the most highly respected seafood rating sources in the world, with over 60 million users of this trusted guide.
3. But what can I do to protect declining native salmon species?
You might think choosing wild salmon is your best option – with declining salmon populations, overfishing, and the demise of their natural habitat – however, choosing wild salmon impacts native populations as well as the Native Nations and tribes that rely on a healthy abundant stock of salmon returning to their spawning grounds.
Sustainable aquaculture, like our New Zealand grown salmon, is the best solution to allow wild salmon populations to rebound. But not all salmon farming is sustainable, chemical-free or rated "Best Choice." Only New Zealand farmed salmon receives the Green "Best Choice" rating!
4. Will this salmon be safe for me and my family?
Absolutely. Santa Cruz Fish Co. king salmon is sushi grade, which means it's safe to consume raw. Why? Our salmon swims against 2 million gallons of pure, swift moving fresh glacial water every minute. The remote pristine environment, cold glacial water, and isolation from both human and any other salmon habitats keep our salmon free of contamination and potential diseases. In fact, the water is so clean that our salmon are naturally free from disease and do not need to be treated with pesticides, antibiotics or vaccines of any kind. 
5. And what about health benefits such as omega oils?
Why does Santa Cruz Fish Co. king salmon (raw, cooked, and smoked) melt in your mouth like the purest New Zealand grass-fed butter? Our New Zealand salmon get the ultimate workout everyday, swimming against the current of the pure, fast moving glacial water of the Southern Alps, which creates higher levels of omega oils compared to other salmon.
To order Santa Cruz Fish Co. King Salmon or learn more visit santacruzfishco.com
---