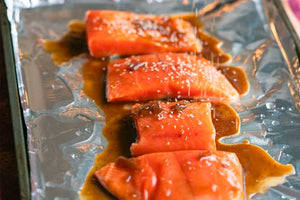 Teriyaki King Salmon Your Family Will Love
Sustainable, Nutritious, and Delicious
For parents looking for a good source of protein for their growing and developing kids, King Salmon filets are a great choice. Making some Teriyaki Salmon for dinner is simple and will give you one more go-to meal in your playbook for keeping your family happy, healthy and strong.


Ease of Preparation
The work/life balance is a challenge we respect, especially for families. Our Salmon comes prepackaged ready to go. All you have to do is remove the filets from their plastic covering and place them skin side down on a baking sheet covered with tin foil and a little bit of vegetable oil.
Teriyaki for the Win
One of the great things about our King Salmon is how clean it tastes. It comes sushi grade and can be eaten raw for those who enjoy raw fish. For younger eaters, adding a favorite sauce will help to please your young ones. For this shoot, we made our own teriyaki sauce, but you can add small amount of your favorite sauce for simplicity's sake. If you are interested in making your own sauce, stay tuned for a recipe coming soon.
Fast, Easy and Wonderful
Getting your kids to enjoy Salmon opens them up to all of the nutritional benefits of this wonderful superfood. The best part is that you can make some rice, put the filets in the oven to bake for 10-12 minutes at 350-375 degrees Fahrenheit, and have dinner on the table in a half an hour. You can order some of our delicious Salmon filets, HERE: ORDER ONLINE
---