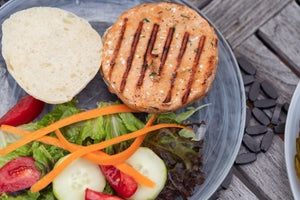 Sustainable King Salmon Burgers: Family Friendly Fish
Family Friendly Fish 
Salmon burgers are a fun and delicious dinner idea that is quick to prepare and sure to please. Our burger patties are made from King Salmon trimmings and are full of Omega-3s. Delicious and nutritious, they are a great family dinner for school nights. 
Blue Cheese, Lime Cilantro, or Regular Salmon
With three options, and all of the fixings, you have enough choices for everyone to get a burger they will love. For those who prefer to avoid carbs, add the burger patty to a salad!
Order Online, Store Frozen, and Enjoy!
Our burger patties are designed to be cooked from frozen, so you can safely store them in your freezer and count on quality tasting and easy to prepare King Salmon Burgers for family dinners! Order some sustainable King Salmon Burger Patties, HERE: SHOP NOW!
---