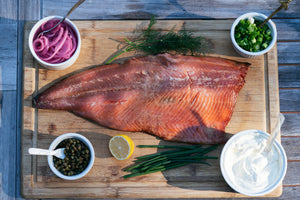 Smoked Salmon Season: Your Holidays Just Got Happier

Perfect for Parties: Smoked Salmon Boards
If you are hosting a party this holiday season, and you want to serve something that is easy, delicious and fun, then one of our SMOKED SALMON SIDES is a great choice. Simply place the entire side on a cutting board. It may break into sections, but no worries: it's not going to last long anyways. Next, add pickled onions, creme fraiche, capers, and green onions, and garnish with chives, dill and lemon and you have happy eating just waiting to happen. 
Holiday Deals on Smoked Salmon
As our way of saying thank you this holiday season, we have a great deal on our fresh batch of recently smoked Alpine Salmon. Not only will you be serving your family and friends delicious, nutritious and sustainable King Salmon, but you will be getting a great deal. Follow this link BUY SMOKED SALMON ONLINE to see your pricing options.
Mt. Cook King Salmon Smoked with Alder
When you start with the pristine protein provided by the Mt. Cook fishery, you have a fish side that is rich with delicious and nutritious oils. So, in addition to the fish being sustainable because they are farmed, they are also as good as Salmon gets. This win win relationship, quality of meat and sustainability of sourcing, is at the heart of our mission at Santa Cruz Fish Co. We strive to provide you with the best quality sustainable fish possible. Thanks for choosing us this holiday season.
---