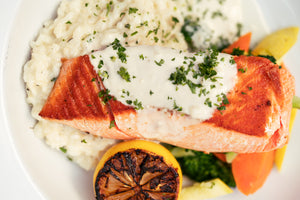 Find Us at The Hideout Aptos: King Salmon Risotto

Hidden Jewell in Aptos has Alpine Salmon on Menu
Nestled in a nook in Aptos is a great opportunity for you to try our fish. The Hideout Aptos is a fun and stylish restaurant serving delicious fine dining and drinks. Order the King Salmon Risotto to try a filet of Mt. Cook Alpine Salmon served over a bed of parmesan risotto with a gorgonzola cream. 
Clean Tasting Sustainable Salmon
This is truly a delicious presentation of our Salmon filets. The simple preparation allows the fish to shine and the richness of the risotto and the simplicity of the steamed veggies creates one perfect meal. With a squeeze of roasted lemon, the flavors and textures are a complete experience. We could eat this every day of the week.
Order Sustainable Alpine Salmon Online
You can order some of our filets, HERE: ORDER ONLINE!
---